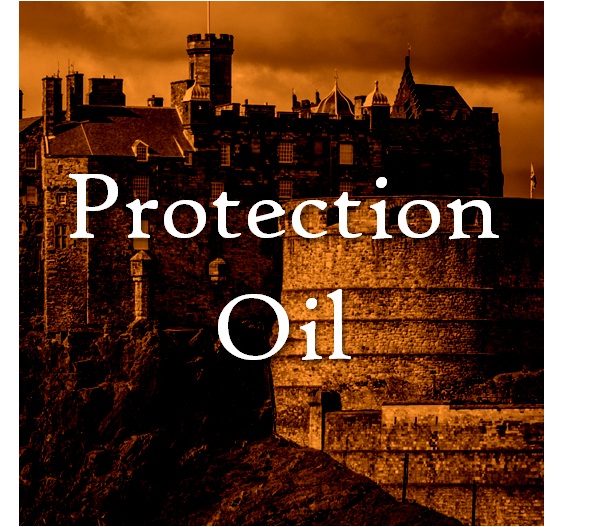 Protection Oil
We all have the right to be safe. Whether out on the road or in the comfort of your home, we do what we can to keep harm at bay. The reality is this feeling of comfort and safety isn't always available. We all have ways of asking the divine for protection and this oil most certainly can be added to your defensive routine. Bitter sweetness from the petitgrain lifts the spirits while pepper gives this a balance powerful punch. A drop of Benzoin resin gives this oil a rounded, lifted scent while harkening back to ancient magical practices.
sold out
Use Protection for:
Anointing candles (black, red, or white) for spells and rituals to invoke protection for you or your loved ones.

Anointing hands, feet, objects like a shield penny.

Add a drop or two to a bath or unscented skin lotion. The black pepper is dilute enough to be skin safe.
Scent Profile: sweet, citrusy, pleasant peppery base notes.
Ingredients: Sweet Almond oil, Petigrain essential oil, Black Pepper essential oi, Sweet Orange essential oil, Benzoin absolute essential oil, Vitamin E Oil.
All Swamp Witch Stephanie's Spell Oils are crafted with care by modern magic workers using both traditional and modern ingredients. Each component is chosen based on traditional associations, and a modern sense of safety and ethics for sourced ingredients.
Sold as a curio only. Our expertise lies in historical herbalism, and occult and magical lore and practice. Information found on these pages is rooted in traditional knowledge (updated for modern safety and practically) and is here for your enjoyment. We cannot provide medical advice as we are not health care professionals. Each oil is made with specific blend of essential oils, and is made with sweet almond oil and soothing vitamin E oil for a naturally longer lasting shelf life. These oils are not safe for ingestion, but are dilute enough to safety use on the skin or to add other external cosmetic products. We show our ingredients lists for your safety and transparency. We want to help where we can, and maintain firm personal and legal boundaries.
With Love, Stephanie